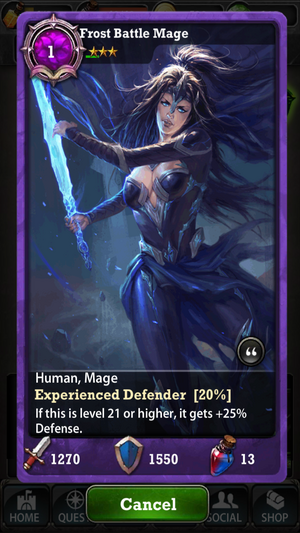 "I think you need to chill out."
"In the heat of battle, it's easy to rely on someone with ice in their veins."
"Dragons subdued by the magic of frost battle mages. Aka. Glaciers."
"Mage sparring makes living at the base of Tyreon's mountains a suicidal affair."
Experienced Defender [20%] (Skill)
Edit
If this is level 21 or higher, it gets +25% Defense.
Stats by Level
Edit
| Level | Attack | Defense |
| --- | --- | --- |
| 1 | 1270 | 1550 |
| 20 | 1994 | 2434 |
| 40 | 2962 | 3615 |
| 80 | 4382 | 5348 |
| 160 | 6256 | 7634 |